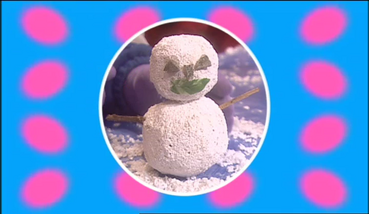 The Tweenies get ready for their Christmas panto, but then something beautiful happens. Milo sees snow! But then it stops, they wanted snow for something they want with it, but Milo makes a miniature snowman because there is not enough snow to build a big one. However, when he brings it inside, the warm air makes it melt away. And more trouble, the Tweenies are twirling around their decorations when Bella falls onto the box of decorations by mistake! Judy suggests that they can make their own snow decorations. When Max comes in from his hot chocolate, what a exciting sight meets him! But as for poor Milo...well, he only sees a scarf, hat and coal, but just a puddle. Max has another video about children being told a story for the second time, then he brings them a surprise - a never-melting snowman, made with paper snowflakes! He brings Milo to another surprise - Cold Wilson. Now Milo can play with him whether it is nice and cold. Finally, Doodles knows it's "snow business"!
Trivia
This is the second episode to have a Tweenie TV video starting in Story Time.
This is also the second episode to feature Philippa Tipper telling the children the story. In this episode, it is about "The Snow Queen".
Featuring
Philippa Tipper and the Children at Warrender School, Ruislip.
Episode