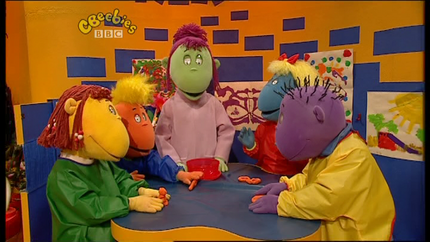 Modelling Clay is the twenty second episode from the first series. It first aired on October 5, 1999.
Plot
Judy arrives with a tub of modelling clay and the Tweenies discover that the wibbly-wobbly material can be shaped and squeezed into all sorts of things, such as a horse, a rocket and a castle. Unfortunately their beautiful models disappear while Judy is telling the story of the Gingerbread Man. Max has the answer to the mystery of the vanishing clay, and the Tweenies work together to make one more wibbly-wobbly creation.
Trivia
This is the last episode to use the short end credits.